The DOK-2 apparatus has been developed and constructed at DSP-IEP-SAS in cooperation with Democritus University in Xanthi (Greece) and Space Research Institute ( IKI ) in Moscow. The DOK-2 was launched twice in space in the frame of the INTERBALL project. The scientific objectives of INTERBALL included four-point sounding of the Earth's magnetosphere. The experiment was supported by two main PROGNOZ-type satellites: the INTERBALL-X (tail probe) and INTERBALL-A (auroral probe) and two sub-satellites MAGION-4 a MAGION-5.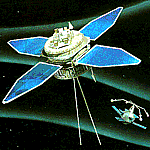 DOK-2 has two pairs of passive cooled silicon solid state detectors. One pair has permanent anti-sunward orientation (i.e. 180°) while another pair provides angular scanning in the elevation angle 180°- 45° to the Sun. The azimuthal scanning is provided by the spacecraft spin (Tspin=120s). The amplitude analyzers of DOK-2 provide 56-channel energetic analysis of electrons in the range 20 keV to 600 keV and 57-channel analysis of ions in the energy range 20keV to 1,5 MeV. The instrument has some artificial intelligence features that allows automatically undertake the decision about the registration mode and information density of the scientific data record. The microcomputer of DOK-2 is based on the 80C85RH rad-hard microprocessor, the operational software is stored in a rad-hard PROM.
Both devices, the DOK-2A and the DOK-2X provided extended and valuable database of scientific data concerning the structure and dynamics of the auroral and tail part of the Earth's Magnetosphere. This was also confirmed by comparative study of DOK-2 data with similar devices on Japanese satellite GEOTAIL and American satellite POLAR.
Valuable results of the DOK experiments were also confirmed by an international conference with NATO support organized at IEP-SAS in September 1998 under name "NATO Advanced research workshop: Coordinated studies of the Solar wind - Magnetosphere - Ionosphere interaction, INTERBALL observations".